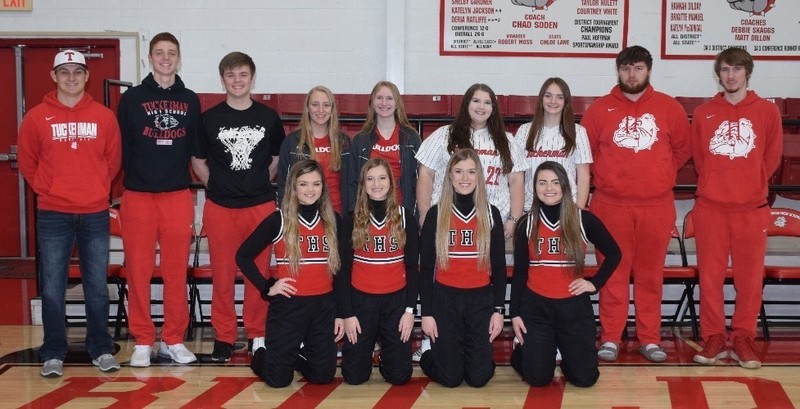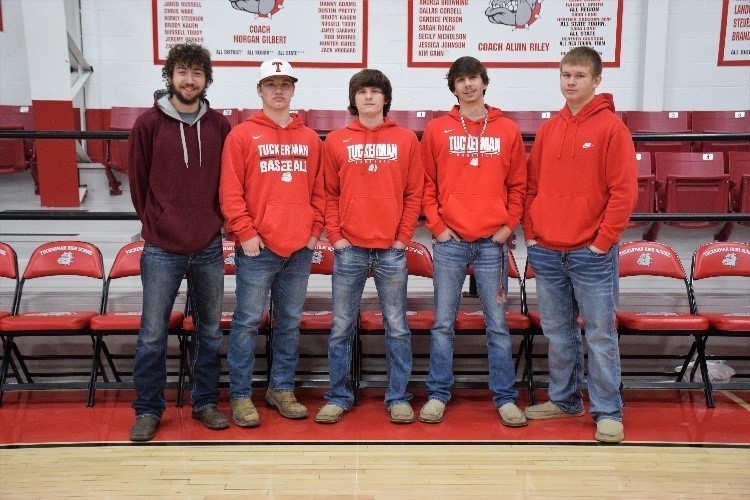 Tuckerman Senior Night

The Tuckerman Bulldogs hosted the Bald Knob Bulldogs on Thursday for Senior night. All senior athletes were recognized and given awards from their coaches .

First pic back row: Quade Young, Ben Keton, Dylan Jones, Olivia French, Savanah Higgins, Brenna Ivy, Madison Walker, Logan Lawrence, and Dakota Armstrong.
Front Row: Shae O'Banion, Madison Walker, Maddie King, and Lexi Harp

2nd pic: Will Wagner, Porter Hutchinson, Chase Huckabee, Jayce Bryant, and Landon Brock

The Tuckerman Lady Bulldogs picked you their 12th conference win by defeating the Bald Knob Lady Bulldogs 64-41. Tuckerman improves to 23-8 (12-2). Tuckerman led 21-5 after 1, 41-19 at the half, and 62-31 after 3. Raigan head led Tuckerman with 18, followed by Kenzie Soden with 17, and Kenadi Gardner adding 13 points. Tuckerman Jr. Girls also won 37-30.
In Sr. Boys action the Tuckerman Bulldogs put up a big fight in the triple overtime loss to Bald Knob. The Bulldogs 20-10 on the season and 10-4 in conference play ended the game with a 77-69 loss. Ben Keton scored a game high 38 points, followed by Jayden Shannon and David Platt both scoring 11 points. The Bald Knob Jr. Boys won 41-32.